Manual Therapy for Animals
Manual Therapy for Animals is not offered by Natural Balance Therapies but by our partners, Marina Rivas and Sophie Allain, two fully qualified Manual therapists, who work mainly with horses and dogs.
They both graduated from the ESAO (European School of Animal Osteopathy), based just next to Old Steine in Brighton, following 5 years of study.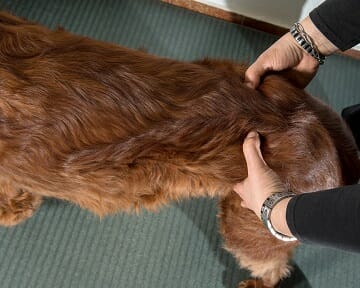 What happens during a session?
Vets Referral
When you book an appointment we will always ask you for your vet's details in order to get their permission before we do a session. This also allows us to get more information about the medical history of your animal.
"My dog, Mala, just had another wonderful treatment from the truly wonderful Marina and Sophie. She is now lying blissed out on her bed. After several treatments she is a very happy dog, her previous ankle injury hasn't resurfaced, and she is happier and calmer and always so thrilled to see Sophie and Marina who treat her with such gentle calm assurance and skill. THANKS A MILLION to them."
– Liz, Mala's owner
At your home/stables
We will come where your animal lives, this way the session happens in an environment where your animal feels safe. This also allows us to get more information about the environment in which your animal lives.
Case history
We need to know every information about your animal. We will ask you a few questions about your animal's past, habits, food, training, possible traumas, surgeries, illnesses, bad behaviour, etc…every detail is important. This will give us an idea on the general lifestyle of the animal. While we are doing this, your animal will probably get used to our presence…. Read full article on their website (External link)
Our Professional, Experienced and Caring Therapists offer Massage Therapy, Osteopathy, Acupuncture, and Beauty Treatments. Book your appointment Today!