What is Osteopathy?
Osteopathy is a whole body approach that aims to detect and treat the root causes of pain, as well as the affects of body or lifestyle changes that can impact joints, muscles, ligaments and the nervous system. When the body is balanced and efficient it will function with the minimum of wear and tear, leaving more energy for living.
Osteopaths are statutorily regulated primary healthcare professionals, trained to work with people of all ages. Osteopaths use a wide variety of approaches to treatment and can bring relief or improvement to many conditions.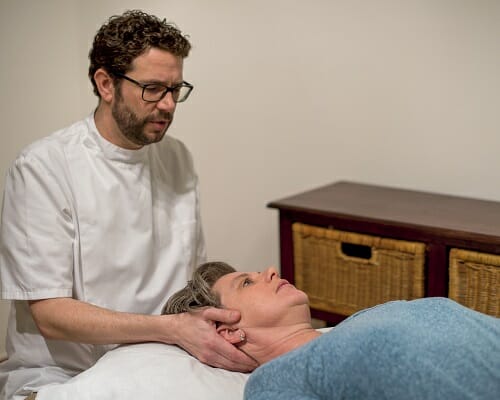 What do Osteopaths treat?
Osteopathy is effective for a wide range of conditions including:
General, acute and chronic lower and upper back pain
Some forms of Sciatica
Uncomplicated/mechanical neck pain (not whiplash)
Joint pains – shoulders, wrists, hips, knees, ankles etc.
Muscle spasms
Minor sports injuries and tensions
Generalised aches and pains
Tennis elbow (related to associated musculoskeletal conditions)
Headaches arising from the neck (cervicogenic)
Occupational strain
Arthritic or rheumatic pain
Digestion problems
What does the treatment aim to do?
Restore homeostasis and equilibrium
Restore muscle and joint function
Improve and maintain flexibility
Reduce muscle spasm
Improve general circulation
Our Professional, Experienced and Caring Therapists offer Massage Therapy, Osteopathy, Acupuncture, and Beauty Treatments. Book your appointment Today!
What does treatment involve?
Osteopaths consider each person as an individual. At your first visit, a detailed case history will be taken. This will involve a discussion regarding you current symptoms as well as questions concerning your general health and previous medical history. You will then normally be asked to undress to your underwear, or alternatively, you can wear thin leggings and a thin strapped vest top if that is more comfortable.
This will enable you to perform a series of simple movements so your posture may be assessed. Then using palpation, points of strain, weakness or poor function may be identified. A diagnosis will then be made and a treatment plan agreed. This will be fully discussed with you prior to treatment. The treatment may consist of massage or gentle stretching of the soft tissues, joint articulation and manipulation techniques.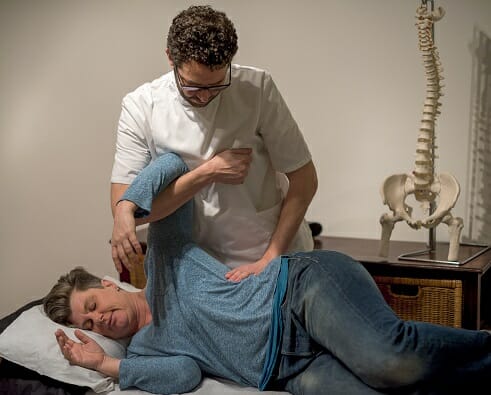 James Adatia
James has been practising in the Brighton and Hove area since qualifying in 1998 from the European School of Osteopathy, one of the UK's leading osteopathic colleges.
His sessions allow for an unhurried considered approach to patients with a style of Osteopathy that combines the benefits of soft tissue manipulation, spinal manipulation and Cranial Osteopathy.
James is available on Mondays and Thursdays plus other times by appointment.
Emma Ross
Emma is celebrating 23 years in practice as an osteopath. Emma graduated from the British School of Osteopathy in 1988 having completed the four-year full-time diploma course in osteopathy.
She is registered with all the major companies, including BUPA and AXA PPP. Private Health Insurance Many private health insurance schemes provide cover for Osteopathic treatment. Emma is available on Wednesdays and Fridays.
Matt Brabner
Matt graduated from the British School of Osteopathy in London, with distinction, after leaving a long career in the travel industry behind. His experience of the effects of stress, commuting and a sedentary lifestyle means he can relate to a wide range of problems people may experience in their back, neck, shoulders and the rest of their body.
He is also experienced in working with people with long term conditions such as chronic back pain and osteoarthritis, helping to maintain as much movement as possible.
Wherever your current problem may be, Matt will spend time assessing how your general posture and lifestyle may be contributing to any local muscular or joint problems and devise a tailored treatment plan for you. Matt is available on Sundays and Tuesdays.
Our Professional, Experienced and Caring Therapists offer Massage Therapy, Osteopathy, Acupuncture, and Beauty Treatments. Book your appointment Today!
Information about Brighton
Natural Balance offers Osteopathy services in Brighton, East Sussex, a large town located in South East England.
Part of the Brighton and Hove built-up area, Brighton is located in the City of Brighton and Hove, a Unitary Authority in Sussex.
A large number of leading businesses make Brighton and East Sussex their home including Natural Balance.
Brighton used to be called Brighthelmstone.
Commonly used nicknames include Blightey & Brighthelmstone.
Over the years Brighton has assimilated villages and a number of settlements including Aldrington, Hangleton, Old Steine, Bevendean, Hangleton, Brunswick, Coldean and Black Rock.
Natural Balance's Osteopathy service area like-wise encompasses Moulsecoomb, Hollingbury, Hollingdean, Hove and Mile Oak in the City of Brighton and Hove.
Other service areas of Natural Balance in Brighton, Sussex encompassRottingdean, Portslade-by-Sea, Patcham, Saltdean and Ovingdean,
as well as Brighton and Hove's outer urban areas Westdene, Woodingdean, West Blatchington and Withdean.
Last but not least Natural Balance's Osteopathy services cover the Brighton Municipality including Bear Road area, Brighton Marina and Stanmer.
Brighton is within the BN postcode area.
The Sussex University and University of Brighton are known through out the United Kingdom.
Preston Park, Brighton and Queen's Park, Brighton are are popular with local residents and known through out England.
The major roads of Brighton are the A27 road and A23 road.
To the West, the City of Brighton and Hove is bordered by Shoreham, Southwick, Littlehampton, Sompting, Lancing and Worthing.
Bordering on the East of the City of Brighton is Lewes, Peacehaven and Burgess Hill.