Acupuncture
Steve explains the benefits of acupuncture and demonstrates needling and cupping (see video).
What is Acupuncture?
Acupuncture is an integral part of the system of Traditional Chinese Medicine (TCM) and has been practiced in China for around 2000 years.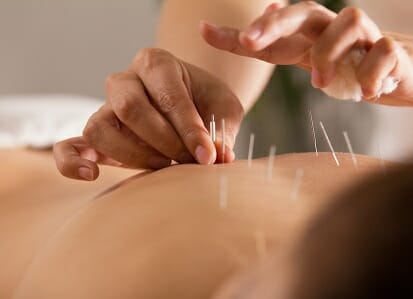 It is based on the concept of balancing the body's innate energy (Qi) to restore equilibrium and a sense of well being. Qi can become blocked or imbalanced for a number of reasons ranging from stress, physical trauma, illness, poor diet or through emotional upset. You may choose to have acupuncture for relaxation, as a general pick me up during times of stress or to boost your immune system during the winter months or before going on holiday.
It can also treat a wide range of conditions including:
Musculo-skeletal conditions and sports injuries
Psychological conditions
Digestion
Respiratory
Skin conditions
Women's problems – Menstrual and Menopausal
Mens problems
Urinary conditions
Tiredness
Ears and eyes
What does treatment involve?
Following a detailed consultation which includes tongue and pulse diagnosis, fine sterile needles are inserted into carefully selected acupuncture points to free up the flow of Qi. These points may be on the front or back of the body and your therapist will advise you in advance of which areas they will be treating to prepare you accordingly. After your treatment, your therapist will discuss a treatment plan giving you aftercare advice to follow at home.
Does it hurt?
The needles used in acupuncture are very fine. There is often a feeling of tingling or a mild ache when needles are inserted and some points may feel more active than others. With any acupuncture treatment, there is always the possibility of bruising to the skin which will reduce naturally over time.
Which type of acupuncture do you do?
There are several types of acupuncture practiced in the UK. This can be very confusing when trying to decide where you should go for treatment. The style of Acupuncture practiced by Steve Mason is Traditional Chinese Acupuncture which produces powerful effects. Both Steve Mason and Nathalie Mineau also offers Acupuncture specifically for Sports Injuries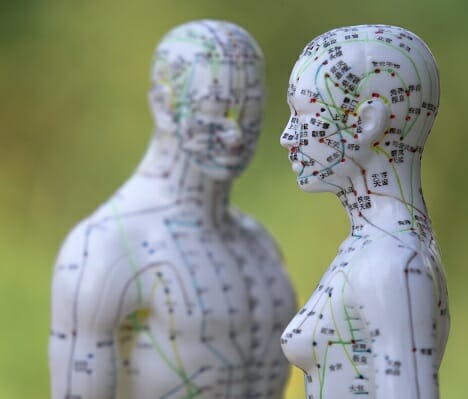 Acupuncture Clinic
Steve works at Natural Balance on Tuesdays, Wednesdays, Fridays and Saturdays.
Nathalie (Acupuncture for Sports Massage) works at Natural Balance on Wednesdays, Fridays and alternate Saturdays.
Acupuncture
Duration
Price

Acupuncture

up to 60 mins

£45.00

Book Now

Tues, Wed, Fri and Sat Appointments
Our Professional, Experienced and Caring Therapists offer Massage Therapy, Osteopathy, Acupuncture, and Beauty Treatments. Book your appointment Today!
Information about Brighton
Natural Balance is proud to offer Acupuncture Therapy services in Brighton, a large town located in East Sussex in South East England.
Brighton, Sussex is a part of the Unitary Authority of the City of Brighton and Hove which forms part of the greater Brighton and Hove built-up area.
A range of East Sussex businesses including Natural Balance make their home in Brighton.
Brighton was previously named Brighthelmstone.
Commonly used nicknames include Blightey & Brighthelmstone.
Brighton is formed by a number of villages and settlements including Coldean,Bevendean, Aldrington, Old Steine, Black Rock, Hangleton and Bevendean.
Hove, Mile Oak, Moulsecoomb, Hollingbury and Hollingdean are included withinin Natural Balance's Acupuncture Therapy service area in the City of Brighton and Hove.
Other service areas of Natural Balance in Brighton, Sussex encompassRottingdean, Portslade-by-Sea, Patcham, Saltdean and Ovingdean,
in addition to Brighton and Hove's outlying urban areas Withdean, West Blatchington, Woodingdean and Westdene.
Just as importantly, Finally yet importantly, Natural Balance's Acupuncture Therapy services cover the Brighton Municipality along with Bear Road area, Stanmer and Brighton Marina.
Brighton is administer by the BN postcode area.
The University of Brighton and Sussex University are distinguished through out the United Kingdom.
Queen's Park, Brighton and Preston Park, Brighton are most notable parks in Brighton and known through out England.
Integral major roads in Brighton are the A27 road and the A23 road.
To the West, the City of Brighton and Hove is bordered by Shoreham, Southwick, Littlehampton, Sompting, Lancing and Worthing.
To the East of the town of Brighton is bordered by Peacehaven, Lewes and Burgess Hill.