Natural Balance Therapies is pleased to announce a new partnership with Sussex Heart Charity, a local charity that, amongst other things, sets out to:
IMPROVE the care, treatment, resuscitation and rehabilitation of persons suffering from cardiac conditions with the overall aim to improve heart health for the people of Brighton & Hove, East Sussex and West Sussex.
FINANCE projects, facilities, personnel or research through the cardiac services provided by Sussex hospitals.
SUPPORT community projects for the education, care, treatment, resuscitation and rehabilitation of people living in Brighton & Hove, East Sussex and West Sussex.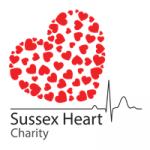 Why Sussex Heart Charity?
Reducing stress and anxiety is undoubtedly good for the heart, and an integral part of what Natural Balance Therapies aims to do. But our Massage and Osteopathy treatments, also aim to keep people moving and active, something that may feel like an increasing challenge as we get older. We can make a real difference to cardiovascular health by encouraging exercise, whether that's gentle walking or running a Half Marathon. Supporting people in tackling their muscular aches and pains can give people the confidence to keep exercising, which in turn has a myriad of health benefits, both physical and mental.
How we aim to support Sussex Heart Charity:
We will donate 10% of our profits, so when you book a treatment with us, you can feel even better knowing it's helping the wider community.
We will support Sussex Heart Charity offering onsite Massage at fund raising events such as walks and runs.
We will share online promoting of events and news, through emails and social media.
Read more about our new local charity partner here https://sussexheartcharity.org/